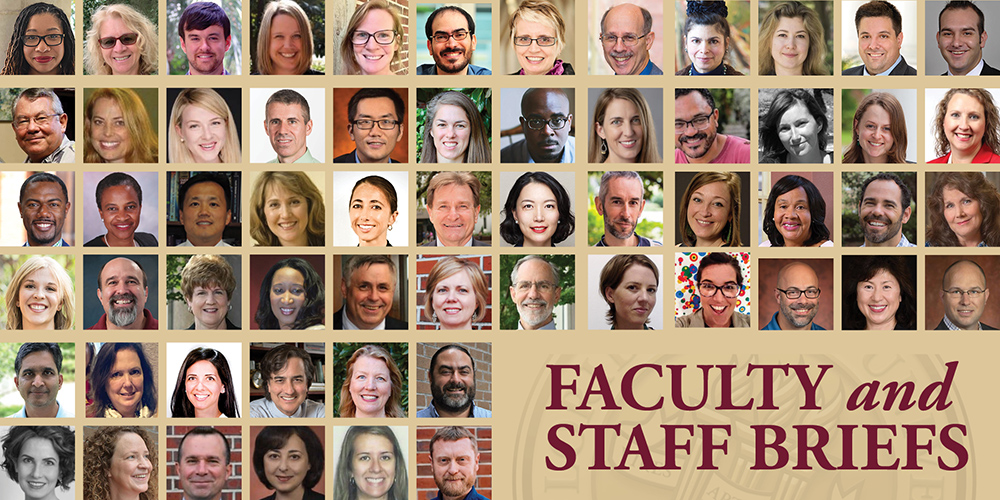 Florida Condition University's college and staff are central to its mission and the critical to its countless accomplishments.
During the yr, honors and recognitions are awarded to folks around campus. Our School and Staff Briefs is developed regular monthly to recognize the accomplishments and offer a house where honors & awards, bylines, shows, grants, company and any other noteworthy items can be showcased.
ARCHIVE
---
HONORS AND AWARDS
Mariya Letdin, Ph.D. and Stacy Sirmans, Ph.D. (Faculty of Business enterprise) acquired the award for Best Paper on Authentic Estate Investment decision Trusts presented at the 2021 yearly conference of the American Serious Estate Society for their paper "Spread As well Slender: REIT Asset Dispersion and Divergence of Feeling."
Zhe He, Ph.D. (School of Info) was regarded as a Fellow of the American Clinical Informatics Association.
Jing Wang, Ph.D. (School of Nursing) was selected as a single of 10 rising leaders in well being and medicine by the Countrywide Academy of Drugs.
Meghan Mick, M.L.A. (Division of Interior Architecture and Design) won an American Society of Landscape Architects (ASLA) Florida award for her project "The Capt. Leonard Destin Park" in the Open House class. She also received the Frederic B. Stresau Award named in honor of Fred Stresau, regarded as by several to be the father of Florida Landscape Architecture.
---
GRANTS
Maxine Montgomery, Ph.D., Candace Ward, Ph.D. and Alisha Gaines, Ph.D. (Division of English) have been awarded a $5,000 Florida Humanities Grant for an English-Literature, Media and Lifestyle Program spring symposium on American novelist, essayist and professor Toni Morrison.
Penny Ralston, Ph.D. (Higher education of Wellness and Human Sciences) received a $53,000 grant from the American Coronary heart Association to put into action Religion Health Delivery, a religion-based effort and hard work to provide wellness providers, such as COVID-19 vaccinations, by way of a cell van.
Mollie Romano, Ph.D. (Faculty of Conversation Science and Problems) collaborated on a 4-year review, "Initial Efficacy Demo of Florida Embedded Techniques and Intervention with Caregivers," which was not too long ago awarded in excess of $3.6 million from the U.S. Department of Education and learning Institute of Schooling Sciences (IES).
Lilian Garcia-Roig, MFA (School of Fine Arts) was awarded the Blackwell Prize in Painting worth $10,000. Garcia-Roig's do the job was exhibited at the College of West Ga, where she also presented a speak on Oct. 29.
---
BYLINES
Bruce Thyer, Ph.D. (Higher education of Social Perform) published "Tips and Methods: Educating Students How to Publish Articles in English Language Social Work Journals" in the China Journal of Social Perform.
Cameron Beatty, Ph.D. (Department of Instructional Management and Policy Scientific studies) printed "Normalcy, Avoidance, Consciousness Boosting: Discovering How Scholar Leaders Navigate Racial Battle Fatigue" in the Journal of Pupil Affairs Investigate and Apply.
Michael Ormsbee, Ph.D. (University of Overall health and Human Sciences) published "Sleep Period Correlates with Performance in Extremely-Stamina Triathlon" in the Human Kinetics Journal and published "Characterization of the Relationship Among Workload and Collegiate Track and Field Performances: A Pilot Study" in the Journal of Exercise Physiology On-line.
Mary Ziegler, J.D. (University of Regulation) authored "Supreme Speed: The Court Puts Abortion on the Rocket Docket," published on the SCOTUSblog.
Mickey Langlais, Ph.D. (Division of Human Development & Loved ones Science) printed "Is It All right If Mommy Dates? The Influence of Mother's Submit-Divorce Dating Transitions for Children's Behaviors" in the Journal of Child and Family Scientific studies.
Tarez Samra Graban, Ph.D. (Department of English) not too long ago released a 65,000-term annotated bibliography "Global and Non-Western Rhetorics: Sources for Comparative Rhetorical Scientific studies," in Quantity 9 of the online journal Present Tense: A Journal of Rhetoric and Culture.
Carla Della Gatta, Ph.D. (Office of English) authored a blog publish, "West Side Story: 60 Years as a Cultural Barometer" on Shakespeare and Outside of, which is generated by the Folger Shakespeare Library.
Shawn Bayern, J.D. (College of Legislation) revealed a new reserve, "Autonomous Businesses," with the Cambridge University Push.
Daynica Harley, J.D. (Faculty of Legislation) authored an op-ed "The Most Bittersweet Chocolate: Our Complicity in Youngster Labor" in the Tallahassee Democrat.
Tanya Renn, Ph.D., Stephanie Kennedy, Ph.D. and Carrie Pettus, Ph.D. (College of Social Do the job) posted the report "Measuring Well-Becoming Through Reentry," which details the improvement and validation of the Reentry Well-Being Assessment Tool, a measure applied to supply a structured course of action for clinicians to tutorial service shipping and provide as a reliable, common outcome of application success.
Carrie Pettus, Ph.D. (Faculty of Social Do the job) was highlighted as a visitor columnist in the Orlando Sentinel. Her piece "Take Motion Versus Racial Bias in Prison-Justice System" details knowledge-driven methods to move outside of documenting racism and just take bold motion to disrupt racial bias and advertise equity throughout the felony justice system.
Jennifer Proffitt, Ph.D., Juliann Cortese, Ph.D., Patrick Merle, Ph.D. (School of Interaction) and doctoral candidate Nivia Escobar Salazar co-published "The Return to Dwell Sports activities Functions: A Political-Financial Analysis of Sports Leisure in the Time of COVID-19" in the Political Economic system of Interaction. The article examines the pursuits of the important players involved in conclusions to reopen U.S.-centered sports all through the COVID-19 pandemic.
Jennifer Proffitt, Ph.D. (School of Interaction) published "Solidarity in the Newsroom? Media Concentration and Union Organizing: Case Study from the Sunshine State" in the journal Journalism. The write-up examines the struggles, actions and challenges of the journalist organizers at two Florida legacy newspapers who unionized in 2016 with the NewsGuild.
Richard Morris, Ph.D. (University of Conversation Science and Disorders) and FSU student Chorong Oh co-published "A Systematic Review of Expressive and Receptive Prosody in Individuals with Dementia" in the Journal of Speech Language Hearing Study.
Jennifer Proffitt, Ph.D. (School of Conversation) and doctoral prospect Christopher Garcia published the posting "We are Coca-Cola and So Much More: Political Economic Analysis of Non-Carbonated SSB Coke Brands" and "Elite Company: Sourcing Trends in 2014-2017 Prestige Press Climate Change Editorials" in Meals, Society & Society, an intercontinental journal of multidisciplinary analysis.
Carla Wooden, Ph.D. (University of Interaction Science and Disorders) and Chris Schatschneider, Ph.D. (Florida Center for Reading through Investigate) co-published "Growth in Penned Educational Term Use in Response to Morphology-Concentrated Supplemental Instruction" in Reading and Writing: An Interdisciplinary Journal. The paper reported results of a analyze that examined advancement in 824 students' written tutorial word use in reaction to a 20-7 days morphology-targeted supplemental instruction.
Carla Wood, Ph.D. (School of Communication Science and Disorders) and doctoral students Keisey Fumero and Michelle Torres Chavarro had their paper "Challenges in Services Provision to Kids and People from Linguistically Assorted Backgrounds" accepted to the journal Seminars in Speech and Language. The paper examines the worries in service provision to young children and families from linguistically varied backgrounds.
Carla Wood, Ph.D., Mollie Romano, Ph.D. (Faculty of Conversation Science and Issues) and doctoral student Victor Lugo co-released their exploration short article "State of the Practice of Team Science in Speech Language Pathology and Audiology" in the Journal of Speech Language Listening to Study.
Davis Houck, Ph.D. (University of Communication), FSU undergraduate student Erika LaFlouria, and FSU graduate student Dean Delp published an essay "Bob Moses, 'Speech at Stanford University' (24 April, 1964)" in the Voices of Democracy Journal.
Marcos Colon, Ph.D. (Fashionable Languages and Linguistics) has introduced the trailer for his new documentary "Stepping Softly on the Earth," which dives into the ruins that predatory exploitation of assets has brought to the Amazon and the battle of the Amazonian men and women combating to endure.
Ravi Howard, M.F.A. (Department of English) posted his quick tale "The Very good Thief," which was selected for The Greatest American Thriller and Suspense of 2021.
Ann Perko, J.D., Karen Oehme, J.D., Jim Clark, Ph.D. (College or university of Social Get the job done), Elizabeth Ray, Ph.D. and Laura Arpan, Ph.D. (Higher education of Conversation and Details) co-released "The Vulnerability Hole: Group Variations in Childhood Trauma and Resilience on a Florida University Campus" in the Florida Journal of Training.
Laurie Abbott, Ph.D., Lucinda Graven, Ph.D. (Faculty of Nursing) and Michael Killian, Ph.D. (Faculty of Social Function) co-authored the manuscript "Latent Profile Assessment of Anxiety and Resilience among the Rural Females: A Cross-sectional Research," which was just lately accepted for publication in the Community Overall health Nursing journal.
---
Displays, CONFERENCES AND Displays
Neil Charness, Ph.D. (Office of Psychology) represented North The us at an international conference sponsored by the Global Affiliation of Gerontology and Geriatrics on digital equity for individuals of all ages, portion of a celebration of the UN Global Day of the More mature Individual.
Stephen Tripodi, Ph.D. (College of Social Perform) presented the talk "STAIR for Grownups Released from Jail in Seminole County" to members of the Seminole County Sheriff's Workplace and the John E. Polk Correctional Facility.
Amberly Prykhodko, LCSW (School of Social Function) co-led a trauma education pertaining to the experiences of people leaving incarceration and returning home at the Hartford Reentry Welcome Center in Hartford, Connecticut.
Paul Marty, Ph.D. and Zhe He, Ph.D. (College of Information) presented at INFOcon 2021, which took put nearly Oct. 19. Marty introduced on the subject of "Museum Informatics," and He presented "Developing Careers in Health and fitness Informatics and Wellness Information and facts Know-how."
Sana Tibi, Ph.D. (Faculty of Interaction Science and Disorders) presented "Morphological Instruction for All: Supporting Linguistically Diverse Students" at an interactive webinar hosted by the American Speech-Language Listening to Association.
Kristen Guynes, Ph.D. (University of Communication Science and Problems) and FSU students Michael Walch, Derica Parathundil and Adrianna Sabat gave a statewide presentation, "Foundations of Operating with Persons who are Deaf and Tricky of Hearing," to the Florida Office of Motor Automobiles.
Ellen Nimmons, MS (Faculty of Interaction Science and Diseases) led an yearly workshop, "Speech-Language Pathology Bootcamp," in which pupils attain fingers-on practical experience executing oral mechanism evaluations.
Ameya Kolarkar, Ph.D. (Heart for the Improvement of Instructing) introduced a poster at the International Finding out Assistant Conference on "Using 'Affective Draw' to Get College students to Do Much better in Math." It showcased Learning Assistant-supported, student-centered educating procedures of the teaching faculty in the Math Department. He also participated in the Studying Assistant Investigate Symposium, making FSU noticeable in the space for the to start with time and diversifying FSU's analysis portfolio.
Laura McTighe, Ph.D. (Division of Religion) participated in the Distinguished Visitors Software at Haverford College in Pennsylvania and offered her talk "We Spoke our Truths" to Haverford, Swarthmore and Bryn Mawr university communities.
Pat Villeneuve, Ph.D. (Faculty of Fantastic Arts) gave a speech on museum edu-curation "Dimensions of Curation Competing Values Framework and Customer-centered Exhibitions" for the Intercontinental Committee for Instruction and Cultural Action in Belgium.
Sara Scott Shields, Ph.D. and Rachel Fendler, Ph.D. (Department of Art Schooling) co-presented "How to Imagine Like an Artist" and "Community Mapping: A Innovative Come upon with Living History" at the Florida Artwork Schooling Affiliation.
Amber Ward, Ph.D. and Jeff Broome, Ph.D. (Section of Art Education) and FSU student Kendra Fairchild co-presented "Coalescing Art Instruction Curriculum: 3 Views on Method Development" at the Florida Art Training Association.
Barbara Parker-Bell, Psy.D., (Division of Art Education) presented "Fostering Link: Creative imagination and Treatment in Art Remedy and Art Instruction," a keynote handle for the International Meeting of the Korean Society of Education and the Arts on Oct. 23, and the linked paper was posted in their 2021 KoSEA Conference Publication.
---
Services
Lauren Kendall, DNP, RN (Faculty of Nursing) participated in multiple community engagement activities with FSU Nursing students during the thirty day period of October including FSU COVID Vaccine Endeavours, FSU Flu Clinics, FSU College or university of Legislation Wellbeing Good, Kids 1st Fund Be the Match with the FSU Marching Chiefs Bone Marrow Push, Whole Boy or girl Leon Neighborhood Screening, and FSU Tennis' Tallahassee Futures 15 Tennis Event.
---
Notable
Larry Dennis, Ph.D. (Faculty of Information and facts) was honored as Dean Emeritus.
La'Tara O. Lampkin, Ph.D. (Florida Centre for Reading Study) was spotlighted on the Countrywide Institutes for Historically Underserved Learners web-site.
Nathan (David) Pifer, Ph.D. (College or university of Education and learning) was showcased as an specialist in WalletHub's piece on the trends and difficulties in U.S. Soccer and which towns are the most effective to observe the sport.
Michael Morley, J.D. (University of Regulation) was elected to the American Law Institute (ALI), which is the main impartial organization in the United States making scholarly get the job done to explain, modernize and boost the regulation.
Mathew Hauer, Ph.D. (School of Social Sciences and General public Policy) was cited two times in "Report of the Impression of Weather Improve on Migration" in the White House's report on local climate change.
Hyochol "Brian" Ahn, Ph.D. (Faculty of Nursing) has been chosen as the Editor-in-Chief of the Asian/Pacific Island Nursing Journal, the formal journal of the Asian American Pacific Islander Nurses Affiliation.
Mai Kung, DNP (College of Nursing) summary approved for podium presentation all through the NHWSN/AAPINA 2021 International Nursing Study Meeting.
Make sure you deliver items for Faculty and Personnel Briefs to [email protected] We publish month-to-month.